Post by Cordelia Chase on May 12, 2018 20:31:54 GMT -5
How did you find us? Angel
How many characters do you already have here? None
Character's full name:
Cordelia Chase
Age:
25
Group Species:
Unique
Gender:
Female
Alignment:
Good
Features:
Cordelia is tall and beautiful and will be the first one to tell you this. She stands at 5'9" and weighs around 140 lbs. She is slender but curvaceous and likes to show off her curves. She has straight, dark brown hair and large, pretty eyes that are a hazely-brown in color. She has a few tattoos, ones she got when she moved to LA, mostly in defiance of her father for screwing her out of her inheritance due to his tax fraud. She dresses nicely, even when low on money she is always willing to splurge on new clothes.
Character Image: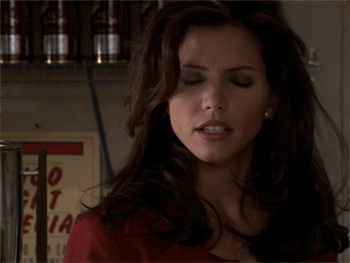 Model's name:
Charisma Carpenter
Personality:
While growing up Cordelia Chase could always be summed up as your typical rich, egocentric snob, a child of privilege with all of the trappings that accompany this. She cared about her image above all things, and did very little to jeopardize her position on the top of the social food chain. She was concerned with no one else's feelings but her own, and she would often belittle those she felt weren't worth her time. Cordy enjoyed being adored and feared in equal parts when she got to high school, and ruled over a group of equally selfish and privileged girls who felt that they ran the school.
It wasn't until she started noticing the strange things that happened in Sunnydale that she even bothered to speak to the Scooby gang without insulting them. It took awhile for both sides to warm up to each other, mainly due to her seeing them as socially repugnant and them seeing her as vain and self absorbed. But, as she continued to work with them Cordelia started to develop more depth, and as a result suffered rejection and ridicule from her original group of friends. It was the start of a turning point in her personality, a subtle change from her former self-absorption. She began to develop more of a trusting nature for those she felt were good, and a general hate for anything she perceived as bad.
Cordelia was and still is known for her lack of tact and general bluntness, often stating her honest opinions in the most snarky ways possible. She can be described as a bold, brash, and extremely self-confident individual. She frequently employees a sarcastic and biting wit in various situations, something that has never left her despite her other changes. She also tends to say whatever is on her mind and is unafraid of the consequences.
Likes:
Despite her change in priorities after receiving her visions, Cordelia still adores designer clothing and expensive things, she just tend to prioritize them lower on her list now-a-days. Though it took her awhile to arrive at this point, Cordy has begun to see it as her begrudging duty to help people in need, a duty which also brings her great fulfillment, though she still fights it from time to time. People showing her gratitude for her helping them makes Cordy feel something she has never felt until she started working for Angel. Cordelia loves her friends and is very dedicated to keeping them safe. Her number one priority is Angel, both for himself and for the good he does in the world.
Dislikes:
Cordelia despises evil in all shapes and sizes. She dislikes anything that stands in her way when she wants to accomplish something, but isn't very tolerant of other stubborn people. She doesn't like passiveness in any form, she can't stand watching someone stand by and do nothing when there are those in need. She won't tolerate quitters or allowing her friends to quit.
Strengths:
* Cordelia was granted visions by the Powers That Be.
*When Cordelia became part demon she was granted the ability to resist the bad effects of her visions. She can now levitate and radiate a bright golden light that could purify evil.
*Cordelia has been training in how to fight the forces of evil for the past 9 years of her life and has combat training in this capacity.
Weaknesses:
*Cordy fears all the suffering in the world that her visions grant her access to see, she feels a great deal of grief when she is unable to help someone.
* Cordelia can be hurt in an number of different ways physically since choosing the leave her position as a higher power. She has a greater constitution than most, but can still experience pain, disease and death.
History:
Cordelia was the only child of a very wealthy family. She grew up in the small town of Sunnydale, California and was the apple of her parents' eyes. She wanted for nothing and as a result came to expect the best out of life. She developed an out-going and take charge personality at a young age, and was always extremely popular with her peers. She gained a number of friends that were in her social class and because of her personality asserted herself at the leader of her little clique. By the time she got to high school her friends were known as the "cordettes" and she was often referred to as Queen C.
Cordelia relished her position of popularity and enjoyed ridiculing anyone she saw as inferior to her. She often dismissed her classmates as losers, unless they were beautiful and rich like she and her friends. It wasn't until Buffy Summers arrived that things in her life began to change. Buffy rebuked Cordelia's offer of friendship and befriended people Cordy often picked on instead, namely Xander Harris and Willow Rosenberg. Having no empathy for others at this point in her life, Cordelia couldn't understand why, so she kept up her constant ridicule of the trio, especially when she started to notice how many strange things happened when they were around.
It wasn't until Cordelia ran for May Queen that her opinion of them started to change at all. During this time her boyfriend was beaten up, her best friend was pushed down a flight of stairs, and Cordelia's favorite teacher was nearly suffocated. Realizing the attacks were revolving around her, Cordelia had to swallow her pride and contact the Scooby gang for help, knowing that they were usually associated with such strange things. She discovered that an invisible student that she didn't even remember was responsible for terrorizing her, and Buffy saved her life when the invisible girl tried to mutilate Cordelia as revenge for ignoring her. Despite her tendency to rationalize strange events, Cordelia was forced to reluctantly accept the existence of dark forces in Sunnydale.
Cordelia went on to discover that her hometown was on a Hellmouth and that Buffy was the Slayer. This knowledge led to her become a reluctant ally to the Scooby Gang, though she still wouldn't associate with them in public. In her junior year, Cordelia continued her habit of falling into life-threatening situations in which she was rescued by Buffy and company, and she started to find herself torn between the Scoobies and the Cordettes.
Through various life threatening experiences she started to become a friend and regular member of the Scooby gang, which eventually led to her developing a relationship with Xander Harris. They kept it secret at first, but when the Cordettes found out about her relationship with a "loser", Cordelia was unable to withstand the peer pressure and rather coldly broke up with him. Xander then attempted to punish her by casting a love spell, but it backfired and resulted in every woman in Sunnydale except Cordelia falling in love with him. Cordelia was actually moved by the sentiment and made amends with him, giving up her popularity to be with him.
The two dated for the rest of their junior year going into their senior year. When a vampire named Spike kidnapped Willow and Xander, Cordelia and Willow's boyfriend Oz ended up searching for them, eventually finding the two friends kissing. Cordelia, heartbroken, ran away, but fell through weak flooring and was impaled by a large piece of re-bar. While in the hospital Cordelia broke up with Xander for cheating on her. When she returned to school, she attempted to regain her standing with the Cordettes but was rebuffed and insulted by Harmony, her former best friend.
After being shunned by her friends and severing ties with the Scooby gang, Cordelia befriended a new student named Anya. Cordelia had started to blame Buffy for everything that was wrong in her life and wished that Buffy had never come to Sunnydale. Anya, who was really Anyanka, a vengeance demon, granted this wish. At first, Cordelia was pleased with her circumstances, but soon came to realize that Sunnydale was really worse off without Buffy. She went to Giles for help but was killed by Willow and Xander, however Giles was able to destroy Anyanka's power and change things back to normal.
Cordelia was able to go on with her life reasonably well, presenting a front that made her appear to be happy and satisfied with her life. It was during this time however, that another blow was dealt to her, her family went bankrupt after her father failed to pay taxes for twelve years. It was shortly before prom, so she took a job at a local boutique to pay for a prom dress on layaway. Cordelia didn't end up earning enough money in time, but Xander found out and paid it off for her, which led to them reluctantly resolving their differences. She even found herself helping the Scoobies one last time during Mayor Richard Wilkins' ascension with the aid of the rest of the Class of '99. She courageously staked a vampire for the first time and helped other students during the battle.
Since she couldn't afford to attend college after her family went bankrupt, Cordelia moved to LA in hopes of becoming an actress. She ended up running into Angel, the vampire with a soul and Buffy's former boyfriend, at a Hollywood party, where she pretended to be successful when she was in fact broke and struggling. Angel ended up rescuing her from a vampire, and after she found out from Angel's friend Doyle, a half-demon who received visions of people in need from the Powers That Be, what the two were doing, Cordelia convinced Angel to turn his fight against evil into a business. She became Angel Investigations' office manager after this, though kept pursuing her acting career without much luck.
Eventually Cordelia reached another turning point in her life when Doyle, after kissing Cordelia goodbye, sacrificed his life to save others. Devastated Cordelia attempted to carry on, but during an audition for a commercial she received her first vision. It was a gift she was convinced was transferred to her from Doyle during that kiss. These vision gave her a powerful ability and were necessary to give Angel the information he needed to help others. Though she was initially wary of this gift due to the splitting headaches it caused, Cordelia was forced to see numerous terrible things happening to innocent people and she eventually fully accepts her calling to "help the helpless".
Shortly after coming to terms with the visions however, Cordelia noticed that they were becoming more frequent and intense, and that her health was deteriorating rapidly as a result. She found out that the visions could kill a normal person because they were only meant for "good" demons to use. This happened on her 21st birthday, when a powerful vision sent her to the astral plane. There she was met by a demon guide named Skip. He later transformed her into a part-demon, in order to save her from the visions' ill effects. She does have side-effects, including the fact that her body can now be used by the forces of evil.
She eventually found herself on a higher plane and she was unable to communicate with anyone on Earth. She grew bored and tried to find a way back, but when it finally happened she had lost all her memories. She eventually ran into Angel's son Connor and slowly started to remember things. He trained her in combat and she took to it well. Lorne eventually brings her memories back, and also awakens Jasmine, a godly being that hid inside Cordy before she returned to Earth. Jasmine controlled Cordelia, causing her to sleep with Connor so that a body will be produced for Jasmine to inhabit.
When Jasmine left Cordy's body, Cordy fell into a coma, for which she eventually convinces her co-workers of her death months later. In actuality she ascended to the higher plane once again, in order to recuperate from the all that Jasmine had done to her, and to continue her work of helping people. While in the higher plane Cordelia, having watched her friends trials and going through trials of her own, she believed it to be her duty to return to them, and the return to using her powers to help others. Cordelia has recently returned to Earth and is seeking out contact with her old friends, having little memory of her time on the Higher plane.
RP Sample:
Another lovely day in scenic Sunnydale, California... perfect. Just being in that town at all made Cordelia want to cringe, especially since she had promised herself that she would never come back, but it was honestly just another thing to add to the increasingly long list of things that were going wrong in her life over-all. It seemed an ironic twist of fate that just when she was starting to accept the visions as the gift they truly were, she finds out that they are also what is behind her slow deterioration. The headaches had been a part of them from the beginning, but they were becoming so frequent and erratic it was getting hard to function normally. She was also waking up with strange lacerations on her body, which could only be another side effect of the gift she wasn't supposed to have.
It all really put things into perspective anyway, being back in this crap hole of a town was really nothing compared to the fact she might die if she didn't figure out a way to stop the visions from killing her. No one had said as much, but she wasn't stupid, she knew things were going to go that way if she didn't figure something out, and fast. Squinting slightly as she walked out into the bright sunlight Cordelia set off in search of something to keep her mind off the what ifs. If nothing else she could always go shopping, not that she had any money but it was a least guaranteed to cheer her up.
She paused in front of a store window, admiring a burgundy dress on the mannequin in the window when all of a sudden the world started to spin and she was engulfed in the all too familiar sensation of an on-coming vision. In it she saw the face of a nasty looking demon flash by, followed by a series of people tied up spread-eagle against the wall of what looked like a cave. She had fallen against the glass store front as the vision hit her, and she kept her hand pressed against her eye socket until it passed. It was only when she opened her eyes again she saw a teenage boy staring at her like she was crazy and she frowned as she straightened herself back up, smoothing down her jacket. "What are you looking at, show's over" she mumbled as she brushed past him, knowing that she needed to find Angel before whatever this was got ahold of those people.